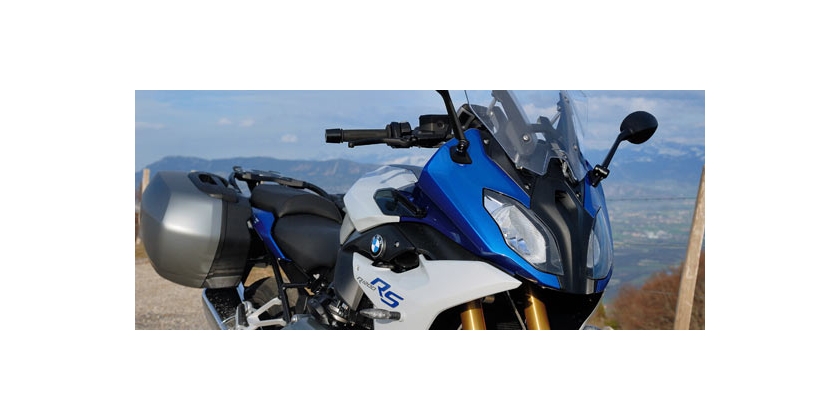 10 years after the R1200ST, BMW is back on the sport tourer segment.
To help you to choose between this new bike and a R1200GS or a R1200RT, here are a few things to know after our review.
Access :
Seat height is close to the R1200RT, but you cannot set it. This means the RT with its seat on the lower position will be a bit easier if you are short legged. However, with 40 kilos less, you can feel more at ease on the RS, even if you are on the tiptoes. Hard to define which is the best of the two.
Riding position :
More sports than the RT, we are seated a bit leaning forward on the wrists. Good to know if you plan long riding days and you are not used to such riding position. Knees are folded the same way, but the feet a bit more to the rear on the RS.
On the road :
With 40 kilos less than the R1200RT, and a shorter gear ratio (though not as short as the R1200GS), it is clearly a fast and responsive bike. The torque of the flat twin is on almost on the whole rpm range. Easy to put on the angle and stable, it is a great bike to ride on the winding roads we have around.
There is no Telelever and this is not a big deal on such a bike. Indeed, the travel of the suspension of a sport bike are lower than those of a GS or RT, that makes the anti-dive system less interesting. However, breaking on a bad tarmac or on the angle makes it similar to bikes with standard suspension
Conclusion :
With this much more sport configuration than the RT, but offering more wind protection than a naked bike (R1200R or F800R), it is a great choice for a sport biker who wants to travel. With the side cases and a 40 liters waterproof bag, you can carry all the stuff you need for a week, and the bike handles perfectly. However, if you want to travel two-up, the R1200RT remains the master of its class.