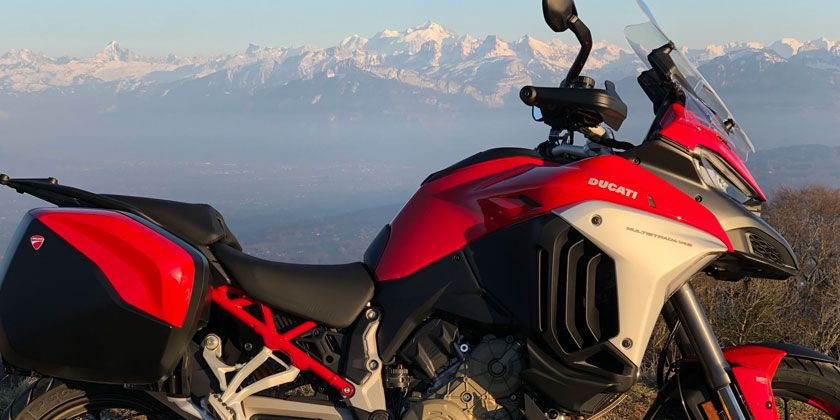 NEW 2021 BIKES
Moto-Plaisir will be one of the first to put hands on 2021 released bikes and offer them to you for your next trip. Check out our short review and comparison to know which one is the one for your next trip.
NEW DUCATI MULTISTRADA V4
Ducati is renewing its interpretation of the ultimate allrounder in 2021! This is a completely new motorcycle, fitted with the V-shaped 4-cylinder engine of the super sport Panigale.
If it is a little less powerful for the Multistrada in order to favor the torque, there are still 170 hp.
Even two up with luggage, overtaking is easy.
From the point of view of on-board technology, adaptive cruise control and blind spot sensors bring the Multistrada into the future!
https://www.moto-plaisir.fr/en/home/183-multistrada-v4-ducati-motorcycle-rental.html
NEW BMW R1250RT 2021
BMW Motorrad takes a step into the future with the new R1250RT.
The first Grand Touring motorcycle with a connected interface and a giant screen of more than 10 inches.
You can already book it for your trip.
Find our comparison with the older model on our Youtube channel.
https://www.moto-plaisir.fr/en/home/186-new-2021-r1250rt-bmw-motorcycle-rental-.html
NEW TRIUMPH TRIDENT
Triumph hits a big blow in the hotly contested mid-displacement roadster segment. With its splendid finish faithful to the brand's standards, a typical Triumph engine and its very well placed price, it is clear that there will not be enough for everyone in 2021. With a rental from 79 € per day , we fall for it!
Available for A and A2 license.
https://www.moto-plaisir.fr/en/home/188-new-trident-660-triumph-motorcycle-rental.html
NEW HONDA GOLDWING 2021
Honda is updating the flagship model of the entire motorcycle industry in 2021.
Some aspects criticized when it was released have been fixed, notably the luggage capacity.
Otherwise, it's still one of the best Grand Touring bikes of all time.
Discover in this video the changes that have been made.
https://www.moto-plaisir.fr/en/home/192-honda-goldwing-dct-2021-honda-motorcycle-rental.html