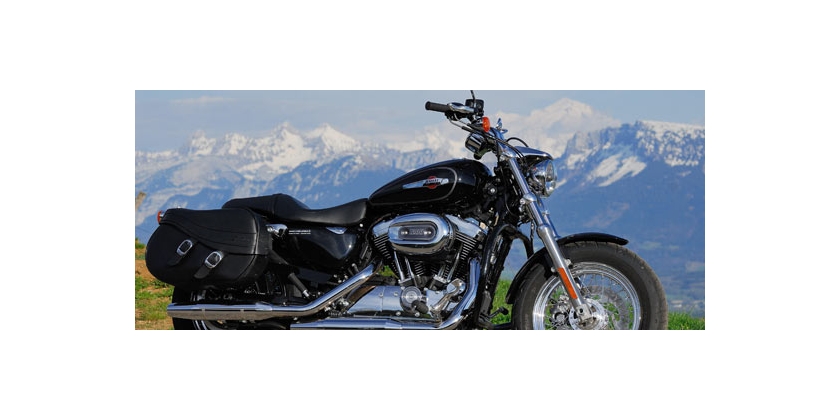 For the 2015 season, Moto-Plaisir offers to rent a selection of motorbikes in the Harley-Davidson line-up.
Harley-Davidson is a somewhat separate brand in the world of motorcycling. It evokes immediately travel, the outdoors, exploring new roads at a leisurely pace, sharing and meetings. You frequently encounter a person whose eyes sparkle when you say its name, whether biker or not. In 2015, three models will allow to provide for all tastes and budgets.
With the Sportster 1200 Custom, you enter the Harley-Davidson's world with the V-Twin 1200 cc. Although its weight on the data sheet can impress (265 kg in running order), the ulta-low center of gravity as well as its seat height makes it very easy to handle, whatever the driver's size.
The engine sound is typically Harley, and propel you without being bored, and you'll love leaving the hairpins on the torque. As for the driving position with slightly advanced feet controls, it brings Harley fun and comfort for long stages. For travel, Moto-Plaisir has fitted it with two lockable panniers with the key of the motorcycle. Additionally, the luggage rack behind the sissy bar will allow you to attach your own bag or the one offered by Moto-Plaisir. The sissy bar enables the passenger to be seated in a more relaxed position, but for the long stage, it would be better to take the comfort seat (optional).
The Dyna Low Rider provides access to 1690 cc V-twin, which offers the most powerful engine in the Harley range (mixed water / air cooled version of the Electra does not bring much more power). You will enjoy an excellent "Dyna"mism, and you easily feel that we are dealing with a motorcycle the upper range in terms of comfort, well-rounded engine, ultra flexible and powerful. Same equipment with Moto-Plaisir for the trip as the sportster, namely the panniers, the sissy bar and saddle optional comfort. Of course, if the look with saddlebags and sissy bar is not what you prefer, it all comes off easily.
The Electra Glide Ultra Limited is the ultimate touring bike in the Harley-Davidson range. The passenger seat is as comfortable as it looks, smooth as the one in the lounge, you travel with the sound of your music or engine. 2015 Version has been significantly improved in many details after the project "Rushmore", which was to bring about the new bike grievances gathered for 4 years with Harley-Davidson customers and distributors. Thus this new model, suitcases opens with one hand, the engine heats less the pilot, the suspension has been improved with a new fork of a larger diameter, LED headlights, the new combined front / rear ABS braking and we forget some more.